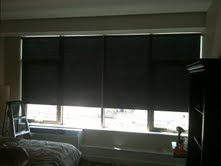 There is probably a specific time every day where your business or apartment starts to roast due to an overabundance of sunlight. That can be easily changed with the installation of
solar window shades in Manhattan
. Prestigious Blinds offers a wide selection of blinds that allows you to redefine the lighting of your home or office.
Over the past decade, Prestigious Blinds has provided blinds,shades and window treatments to New York City and surrounding areas.
Manhattan solar window shades
are designed specifically to regulate the intake of sunlight. They can be used to block sunlight on warm days, or to heat your room on cold days. By using your shades to filter light, you can lower your energy bills by not using lights or heat as much.
Prestigious Blinds offers many styles of shades and blinds for your home or office, including:
Solar shades
Roller shades
Motorized shades
Wood blinds
Vignette modern Roman shades
Honeycomb shades
Silhouette
Alouette
Pirouette
Skyline
Mini blinds
Vertical
Roman shades
Shutters
Bamboo shades
We can customize any blinds for residential or commercial purposes. If you would like more information on
solar window shades in Manhattan
, call Prestigious Blinds at 888-588-7088 to schedule an in-home appointment.